The world of press was a treacherous adventure that opened to me a world that was so murky yet impactful. A road that was visually exciting yet equally terrifying. Multimedia, tabloids, public relations, press conclaves, and all that what we call the fourth pillar of Democracy revealed to me it had hit many lows. Accuracy, flair, decency, transparency, leave alone principles, is a far cry from what it stood for. I relish my best years spent in the capital, as an amateur journo, hyper focused on daily events, making it to the lackadaisical conferences, writing on subjects that excited me. Not an iota of regret. With all the mediocrity and banality, journalism still thrives, and as GK Chesterton would snub – it still consists of people saying Lord Jones is dead to people who never knew that Lord Jones was alive.
That aside, last week as one corner of Orissa and affected communities remembered 'Kandhamal Day' in remembrance of the many minorities and dalits who died in the August 2008 violence, it took me down the memory lane. The event and the aftermath of the tragedy remains a subject close to my heart and indubitably needs a mention on my blog. Of the few conflict areas I was able to write and travel to, this remains paramount, stands tall for the amazing lessons, courageous souls and the sight of how faith and hope alone could enliven communities when everything else fails. I recollect the trip to the sleepy town of Kandhamal tucked between the hills and jungles of the Eastern Ghats. A place where hatemongers and rabble-rousers triggered a massacre so large that close to 60,000 fled to the dense jungles, while close to 80 gave their lives, many orphaned, many raped and houses razed down before the blink of an eye. I am still haunted by the gory visuals and aftereffects of the grueling crisis. It was one of the most horrific chapters against minorities in recent times. The coverage for such a massacre saw no mention, not even the obituary page, even as celebrities and their gala parties stole the show.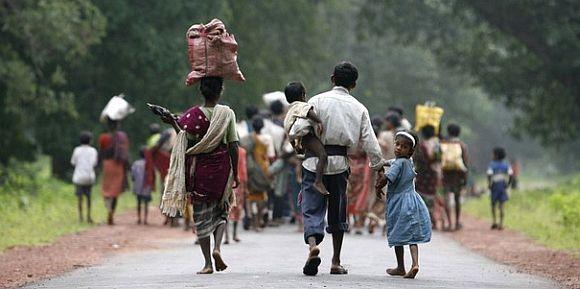 Despite over 3,000 complaints, little has been done to bring the marauders to justice. Voiceless dalits, tribals and sections of the minorities lived in dense forests for months fearing another clash and animosity triggered by the supposed majority, the powerful and the trouble mongers. My travel to Phulbani, touching Baliguda and Udaygiri, is not just unforgetful but is also unforgivable. The relief camps were flooded with people who in a fraction of second were thrown to the streets, with no roof over their head. Children show their burns caused by the kerosene-lit fire that night. Their eyes show pain, misery and beg for attention. If only the press had played its role in alleviating the pain. As stories of grief were being churned out, to be published and circulated by our own known media houses, we were more grieved that the experienced editors at board rooms, found them not newsworthy considering the other insignificant subjects. And you have those from some reputed newspapers and magazines send their page-3 reporter to cover the event. Just out of college, with their rock-n-roll lifestyle, technological expertise and theory lessons on Rousseau and Voltaire, they are clueless on the W's they were taught, leave alone recognize those that bore the brunt. Some of my good friends reading this remember the heated arguments we had on mostly the lack of stand/stance and keeping the story mostly open during that time of intense pain. I agree, your editor and media hero egged on presenting facts and not being opinionated. I always differed that, still do. What is it if you can't do a fact-finding, unearth the rot than look for juicy nuggets to excite your audience. If your conscience failed to act and react, after the horrific stories of pain, absolutely you are on the wrong sail.
The red lights zoomed, the NGOs left with their audit report hoping for another financial leak, then comes the religious biggies with their feigned compassion. They come like an eagle looking for its weakling prey and look to sponsor some orphaned kids to purge their money, and hoping it will lead them quicker to heaven. They hear nothing, they see nothing, and they speak nothing. Opportunists have a blast. The people affected continue to be affected, but one aspect, at least many I came across, it was just faith and hope that led them to look for another morning. To those eating comfort food and living in decent areas with secure walls, these are subjects that lead to emphatic mockery. Faith is for the faint-hearted some say with all their half-baked sarcasm and nihilistic philosophies. Faith, hope and grace was better understood and applied by people more oppressed and affected. The pages of the Psalms have been music to their ears. The Amazing Grace has been a tune of comfort and the sign of a cross has been a sign of hope and consolation. Faith is for them my friends. They perceive and respond to it better than any. Like a priest I heard once shout: God is biased. He is absolutely biased when the subject involves the poor, weak, oppressed, orphaned and all those ignored by the society.
As I remember Kandhamal and the many lessons it has taught in my short writing days, I have overwhelming respect for the many who have lost their kith and kin and endured silently the ignominy and repercussions of brute forces. I also salute those journos who have cast aside plush jobs to let their pen speak for those who can never be heard. It was never money or fame, absolute passion that drove them.
As I left the sleepy town, I recollect the brief encounter with a little kid at a relief camp. We both slept on the uneven floor that night, looking at the open sky, the bright stars, and out of the blue, it was like the stars stopped blinking. I was hit with the question I most dreaded of. Where is my home? When can I be a majority? Where is God? While the questioner's eyes sparked with hope, I knew he was already home. With my futile words of comfort, as I returned to my mundane life in Delhi, cruising through boards with gleeful advertisements, and seeing children neatly dressed for school, I enter my gate. I walked to my room, laid on my bed staring at the ceiling, with the lad's question resonating, Am I home yet? Just as the lyrics go, if home is where my heart is, am out of place. While the question now troubled me more than the kid, I slept it off, waking with the newspaper at my doorstep informing a slight intensity earthquake. Nature is sure that powerful force. This time, my question to me was: Do I stand on the side of majority or belong to the minority.